Structured Cabling, the Lifeblood of Business Networks
Business networks and telecommunications simply do not exist without cabling.
Cables within networks are like the veins throughout the body, they are entirely essential to survival; and just like the body, there is a certain level of examination vital to maintaining health.
Regular checkups can save you heartache in the long run, literally
You shouldn't take a chance with your health and you shouldn't take a chance with the health of your network. When you're in it for the long-run and you need your network & cabling systems to perform, you want assurance that it's in the best shape possible; DallasTECHNOLOGY administers this assurance by providing structured cabling services with the care and expertise of a surgeon.
Save yourself the heartache and get a checkup before problems arise. (skip below to fill out form)
Oh, what a tangled web we weave!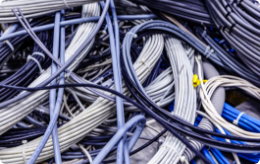 There is a considerable level of complexity that arises within business networks and without the proper methodology it's easy to get tangled.
We don't need to explain the level of frustration and confusion that arises when dealing with a web of wires, just think about the last time you tried to untangle those Christmas lights left in the attic - you know what we mean.
...and this chaos comes with a cost.
When you have to troubleshoot an issue and your cabling system is a complete catastrophe, it takes hours just to find the source of the problem!
Find Serenity with Structured Cabling
Save time by having a managed system in place and save money on aspirin dealing with the resulting headaches.


Okay, so it's important but what is Structured Cabling...really?
Organization is an important aspect of any successful endeavor, it's no different for cabling a business network; organization is the key concept behind structured cabling.

Structured cabling is the design and installation of a cabling system that will support and connect multiple hardware systems/devices. The "structure" or architecture of the network cabling for your desktops, servers, phone systems and additional management systems such as security alarms and surveillance cameras.
These main components are structured and organized into smaller sub-sets, these sub-systems of implementation, are a "structured" methodology for cabling infrastructure that establishes a consistent organization throughout the entire construction.
What does all that mean? It means we face-off against the chaos, ultimately taming the beast that is your business network and produce a solid framework with which to upgrade and maintain a high-quality service.

...Bullet points here we come!
Structured cabling can be thought of as six subsystems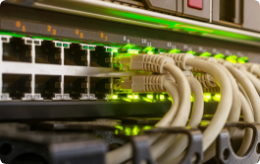 Entrance facilities: The origin of the telephone company/Internet Service Provider network and it's connection to the on-premises wiring. The connection to the outside world and vice versa.
Equipment rooms: The point of consolidation for all equipment wiring. Could be a large room, or a small closet. This is generally rackmounts housing switches and servers. The heart of the building, where all the veins branch out to bring forth precious data juice to the rest of the extremities. Optimized organization is a key component to efficient and reliable technology here, not to mention troubleshooting.
Backbone cabling: The connection between the equipment rooms, telecommunications rooms, main terminal space, and entrance facilities. The backbone is the spine of your business network, the rest of the body can't really exist without the spine; the spine creates the connection for your central nervous system and it transmits the signals from your brain to the rest of the body - the backbone is essentially the same and you can think of it as holding the same level of importance.
Horizontal cabling: Inside wiring or plenum cabling - connecting the telecommunications rooms to individual outlets or work areas; usually through conduits or ceiling spaces of each floor. Keeping your cabling out of sight, out of mind and out of harm's way!
Telecommunications rooms: or enclosure connections between the backbone cabling and horizontal cabling.
Work area components: The connection of end-user equipment to the outlets of the horizontal cabling system. This is where the importance of structured cabling becomes evident to your employees; a neat and orderly work area promotes efficiency. Tripping over wires promotes lawsuits.
Adhering to organizational standards means a more scalable framework and upgrading/maintaining these structures becomes a smoother procedure. The resulting benefit is not only smoother upgrades but also increased reliability and speed.
The structures we implement become a blueprint for the success of your technology. For now and into the future.

We fulfill all cabling needs and desires - including the ones you didn't know you needed or desired.
We understand you want the most efficient and reliable service possible. So, we provide a thorough diagnosis in our structured cabling service, an authentic consultation that is catered to best fit your needs.
We've had a lot of experience wrangling wires, so you can rely on the skills and knowledge of an expert team while you relax and reap the results! No matter your job LARGE or SMALL, DallasTECHNOLOGY can help you. If you need a few network cables or jacks installed in a pre-existing building, or if you have new building construction and require a formal bid to install 20+ network cables. We want to help you. Let's work together...

Here are some of the services we provide: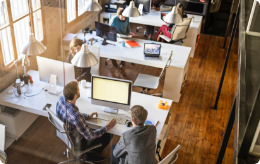 Network cabling – including needs analysis and system design Genuine consultation, with your needs at the forefront
Security - Keeping your information private through necessary precautions.
Data cabling – design and installation
Telecommunications cabling – landline telephony and VoIP
Internet – You need internet service at your business location.
Cable and wiring repair – diagnosis and repair of problems
Cameras – survelliance cameras, monitoring/recording and the underlying cable infrastucture necessary for sustainability
Cabling and wiring moves and adds – for any incremental changes to your system
Structured cabling – for building or office backbone connections
Server rack cabling – organized, labeled, and professionally organized
Prewiring
Maintenance – basic replacements and upgrades.
Relocation – need to move your entire cabling systems?
We don't skimp on standards
We adhere to the most rigorous structured cabling methodologies and only use locally sourced premium cable. You can expect the highest level of quality and service from DallasTECHNOLOGY. Our licensed and certified engineers and technicians will analyze your business needs and make targeted recommendations for network improvements that will provide the best return on investment.
Fill out the form today to get started!
Our licensed and certified engineers and technicians will analyze your business needs and make targeted recommendations for network improvements that will provide the best return on investment.
Is poor cabling slowing you down?
Don't wait another day to find out.