VoIP Solutions
Powerful telephony solutions and business phone systems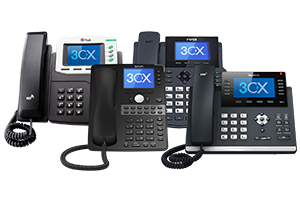 In today's competitive business environment, having effective communication technology within your organization is an absolute necessity. DallasTECHNOLOGY' Voice-over-Internet-Protocol (VoIP) telephony solutions deliver sophisticated communication systems your business needs, without the high costs associated with the installation, management and maintenance process.
The VoIP trend is on the rise, and many businesses are already taking advantage of this groundbreaking technology to transform their telecommunication systems - what are you waiting for?
Reduce Your Costs, Increase Your Productivity and Mobility with 3CX Phone System for Windows
Move to the 3CX Phone System – an award-winning open standard Windows-based IP PBX that replaces traditional proprietary hardware PBX whilst providing enterprise-style features at a fraction of the cost.
Lower your company's call costs and truly globalize your business by leveraging VoIP Providers and bridging your offices for free inter-office calls.
Increase mobility by allowing your employees to take their office extension with them wherever they go!
Increase productivity with Unified Communications features that allow you to setup conference calls and web meetings in a matter of seconds and see the presence of your colleagues.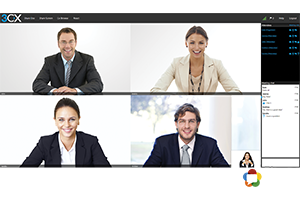 3CX Phone System supports popular SIP phones, VoIP providers and traditional PSTN lines. The web-based management console makes it easy to configure, eliminating the need to hire expensive telecom consultants.
Step into the future of web conferencing with 3CX WebMeeting – the new and unparalleled video conferencing platform which leverages WebRTC Technology for a seamless, user-friendly experience with no need for additional plugins or software.
Benefits of the 3CX PBX Phone System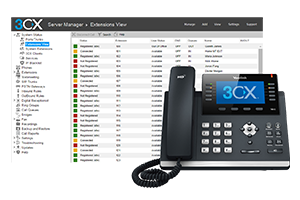 No need for separate phone cables as the phone system uses the existing data network
Easier to install and manage via its web-based management console
Far less expensive than a hardware-based PBX
Allows employees to hot-desk and tele-work
Users can configure their extensions themselves using the self-service User Portal
Utilize any SIP phone instead of being locked into one vendor
Receive and make calls via existing phone lines using VoIP Gateways
Save on call costs with 'out of the box' configurations for popular SIP / VoIP providers
Easier to manage because it's Software based
Inexpensive to expand and buy
Work from anywhere with Android & iOS clients
Leverage existing IT infrastructure & Server hardware
Save on your phone bill with SIP Trunks & Remote / Mobile clients
WebRTC Integrated video conferencing
Advanced call queues means Better customer service
Integrate with Accounting & CRM software
Standards based –use popular SIP Trunks, IP Phones
Click-2-Call from your website
Key Features of the 3CX PBX Phone System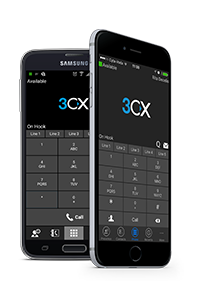 3CX web-based management console
3CX assistant – desktop call control
3CXPhone – integrated VoIP SoftPhone
Web-based management console for easier administration
BLF - set presence and eliminate phone tag
Microsoft Outlook / Salesforce.com integration – launch calls directly from your favorite CRM
Connect branch offices seamlessly
3CX Tunnel – for easy remote connections
Fax server
Unified messaging – receive voice mail and fax via email
Unlimited auto-attendant / digital receptionist
Phone provisioning
Paging and intercom
Call forwarding with advanced rules by caller ID, time and type of call
Call queuing, recording, conferencing
Call park & pickup